Academic Research Incentive Directive adopted at the Senate meeting dated 15 December 2022 and numbered 2022/27
Process Calendar - 2023

| | | | | |
| --- | --- | --- | --- | --- |
| Application Period | Application Start Date | Application End Date | Evaluation | Submission to UEB Agenda |
| Ocak | 02.01.2023 | 31.01.2023 | 01.02.2023-10.02.2023 | 16.02.2023 |
| Nisan | 03.04.2023 | 28.04.2023 | 02.05.2023-12.05.2023 | 18.05.2023 |
| Temmuz | 03.07.2023 | 31.07.2023 | 01.08.2023-11.08.2023 | 17.08.2023 |
| Ekim | 02.10.2023 | 31.10.2023 | 01.11.2023-10.11.2023 | 16.11.2023 |
** Award applications are made in 4 terms (January, April, July and October) per year.
*** The Office of the Rector reserves the right to change the dates due to unforeseen circumstances.
|   | April | July | October |
| --- | --- | --- | --- |
| Number of Awarded Articles | 78 | 55 | - |
| Number of Awarded Book / Book Chapter  | 5 | 2 | - |
| Number of Awarded Project | 8 | 7 | - |
| Number of Patent / Utility Model | 2 | 0 | - |
| Number of SDG Publications | 41 | 25 | - |
| Number of Open Access Publications | 32 | 21 | - |
| Number of International Co-Authored Publications | 22 | 22 | - |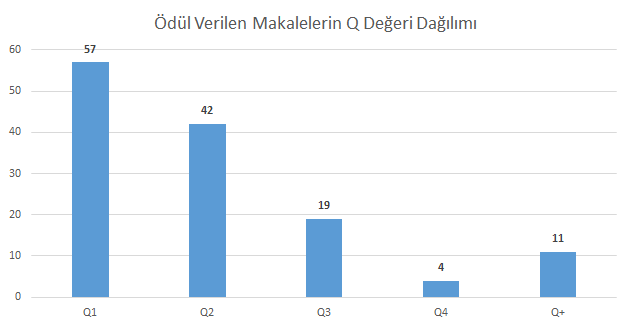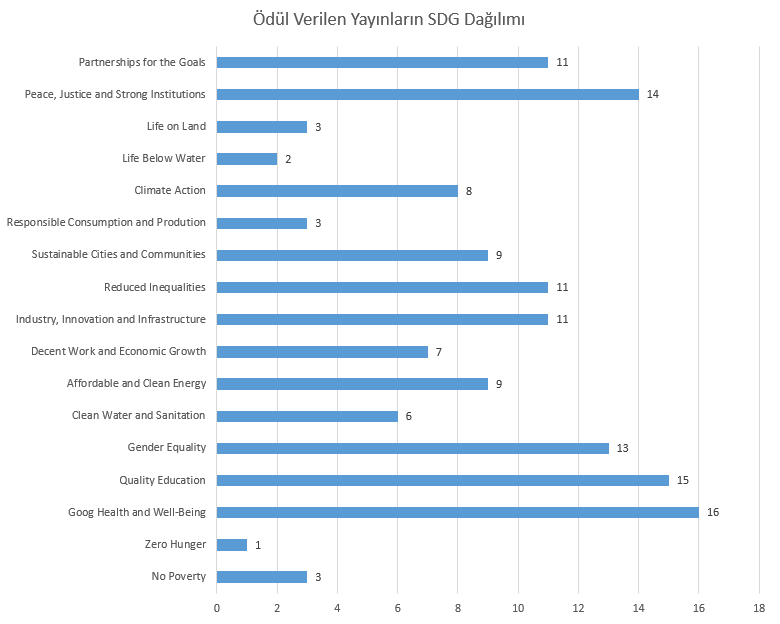 Full-time and part-time faculty members, administrative staff, undergraduate and graduate program students, and TED University members leaving TED University for various reasons can apply.
No. TED University address; Awards are given to articles, books, chapters, patents and projects.
The author, by filling out the award application form completely; may be handed over to the private office. Personnel leaving TEDU can apply to the Registrar's Office with a petition.
Applications for research incentive award; It is taken four times a year (in January, April, July and October). It is evaluated and decided by the University Administrative Board (ÜYK).
It is sufficient to apply once for a publication. Applications for publications that cannot be awarded are automatically renewed in each award period.
The amount of publication award is determined by the University Administrative Board (ÜYK) at the beginning of each academic year. You can access here the Executive Board Meeting Minutes, in which the reference award amounts for the year 2022 for the coefficients determined in the relevant directive are determined.
No. The article is on WoS; It should be indexed in SCI-Expanded, SSCI and A&HCI or scanned in Scopus.
Payment is made following the decision of the University Administrative Board (ÜYK) in line with the amounts determined for the salary account.
If the book was not awarded in the first edition, an award may be given. The book that was awarded in the first edition will not be awarded in new editions.
No. Translation, congress/conference/symposium, proceedings books and question banks are not subject to award.
Each TED University member must apply for the award separately.
Within 5 years following the date of leaving TED University; The author can apply for an award for publications addressed to TED University.
Yes. In case you apply again, the difference between the award and the difference will be paid.
Applications can be made for the project award within the start and end times specified in the project contract.
For submission of applications;
For your questions about articles, books and book chapters;
For your questions about the project and patent;
For your questions about the application with a petition;